Today we started on the Website Design and Development unit.  Pupils have chosen to select their own topic rather than being given a topic by me.  We will still have a client interview though, where the 'client' is requesting a topic the pupil has chosen.
Website Design Task:
Plan a website on a topic of your choice with four pages.
On paper or using gliffy.net plan out your website structure and what each page will look like.
There should be a home page and then three other pages.
Examples:
a main page about cycling then a page on famous cyclists, a page on bikes and page on places to cycle inEdinburgh
a home page on Peppa Pig and then a page on episodes, a page on characters, a page with video clips and sound clips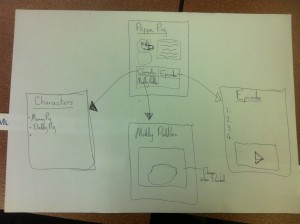 The website doesn't need to be made in HTML.  You can use software to make the site if you prefer.  It does need to have some CSS though.
Possible next tasks:
Go to http://www.google.com/webfonts and choose a font for the headings and a font for paragraph text
Select images for your site
If you want go to voki.com and create a video for your site
If you want, you can embed a youtube video